Zalleo IV was the upgrade to
Zalleo III
. Zalleo IV is only friends with
Plankteegee's Army
 and hates everyone else. His worst enemies are
Zalleo 2.0
, Zalleo 2.9 and
Zeegee
. He is currently deceased because
Plankteegee
accidentally spillled a potion on him and it was insane beninall causing him to go out of control and he went crazy and killed
Grankteegee
 and several other people due to crazyness. He then killed an old lady, then he killed a cardboard
Squidbob
 and later confronted Squidbob and
SwedKawerd
 and they screamed like girls since they thought it was the real
Zalleo
 and they thought they gave him a heart attack and then ran away. He then killed himself by aiming a death ray to Plankteegee because he was insane but it was aimed too close to his head so he killed himself. He did not get revived, instead Plankteegee rebuilt him instead of reviving him.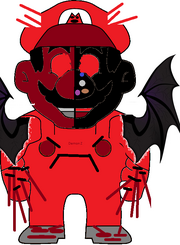 Ad blocker interference detected!
Wikia is a free-to-use site that makes money from advertising. We have a modified experience for viewers using ad blockers

Wikia is not accessible if you've made further modifications. Remove the custom ad blocker rule(s) and the page will load as expected.